Best laptops for music production 2023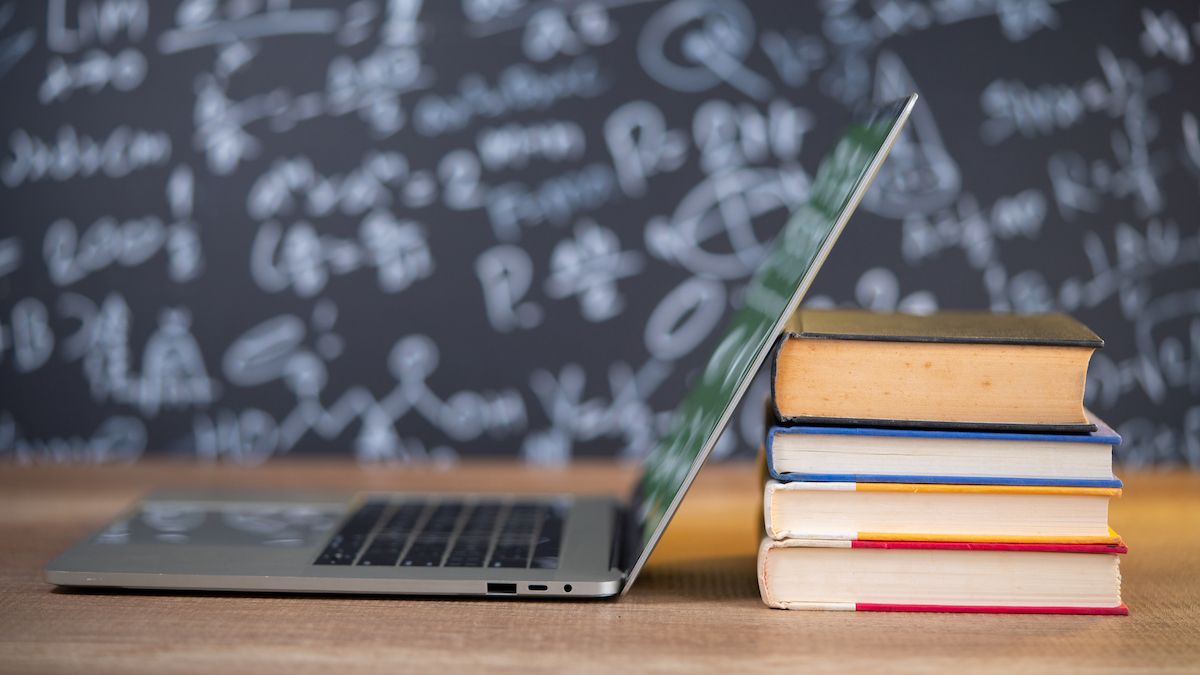 For years now, Apple has produced some of the best laptops for music production. As the only portable platform for Logic Pro X, the MacBook Pro is synonymous with the craft of music-making. By comparison, those of us using a PC have traditionally been chained to the desktop format, but that has changed considerably in recent years. Dell, Microsoft, Razer, Lenovo and others big tech brands are all muscling in to give Apple a serious run for its money, and some of them have proper music-making clout too. 
All of which is great for the consumer, as it gives us genuine choice when it comes to music production.
Regardless of which platform you opt for – Apple or Windows – there are some considerations which remain consistent. When it comes to choosing the best music production laptop for your home studio, you'll want to pay close attention to the power and memory specs of the machine you're eyeing up. While the basic requirements for most DAWs is a multi-core processor, around 4GB of RAM and a few gigabytes of storage, this won't be enough for real-world applications. 
Buying a music laptop based on the 'minimum recommended' specs is a recipe for future angst and a need for an early upgrade. Instead, you need a laptop with enough power to handle the latest software and expanding file sizes, with enough juice in the tank to cope with whatever you may need down the line.
For any DJs or traveling musicians reading this guide, weight – and portability – is likely to be another major factor. Some of the highest spec, beefiest laptops also weigh a fair amount, and your shoulders will quickly tire of lugging those behemoths around.
So, the best laptop for music production should be powerful and lightweight, while also rocking a good battery capacity, for those situations where you're away from mains power. if you want more guidance, head to our buying advice section. Keep scrolling for our recommendations…
Best laptops for music production: Our top picks
While we have music production laptops for most pockets in this buyer's guide, there's a good chance that you will need to shell out quite big numbers for the kind of power that your mobile music production demands. 
We'll start our recommendations at this more expensive end, then, and that inevitably means Apple. There's still one machine that stands out on the Pro side, and that's the Apple MacBook Pro 14-inch (2021) (opens in new tab). The numbers it puts up in terms of sheer production grunt are impossible to ignore. It's also a music laptop you can buy and then not have to think about again for another five years.
If you want something a little more lightweight, there are two MacBook Airs now vying for your cash. The latest MacBook Air M2 version is a genuinely capable proposition as a music-making laptop for most users and the original MacBook Air M1 (opens in new tab) will deliver decent power for less outlay.
For Windows users, the Dell XPS 13 OLED (opens in new tab) is still a super solid player, and more than capable of withstanding some hefty DAW sessions without breaking a sweat. 
We'd also recommend looking to the world of gaming laptops. Don't be put off by their visual stylings – gamers require lots of power and very quick processors, which is good news for music producers too. For our money, we're taken with the Razer Blade 15 Studio Edition (opens in new tab). It's incredibly powerful, looks amazing and would make a worthy studio powerhouse across a range of creative pursuits.
We would also recommend considering the 2-in-1 laptop tablet route, as these machines offer some benefits of touch operation (Bitwig's Studio DAW is particularly well designed for this) or standard laptop use – you decide. Microsoft's Surface Pro 8 is still one of the best for combining power, a great design and mobility, although it does cost. 
If you're on a strict budget, we'd point you towards our full round-up of the best budget laptops for music production.
Best laptops for music production: Product guide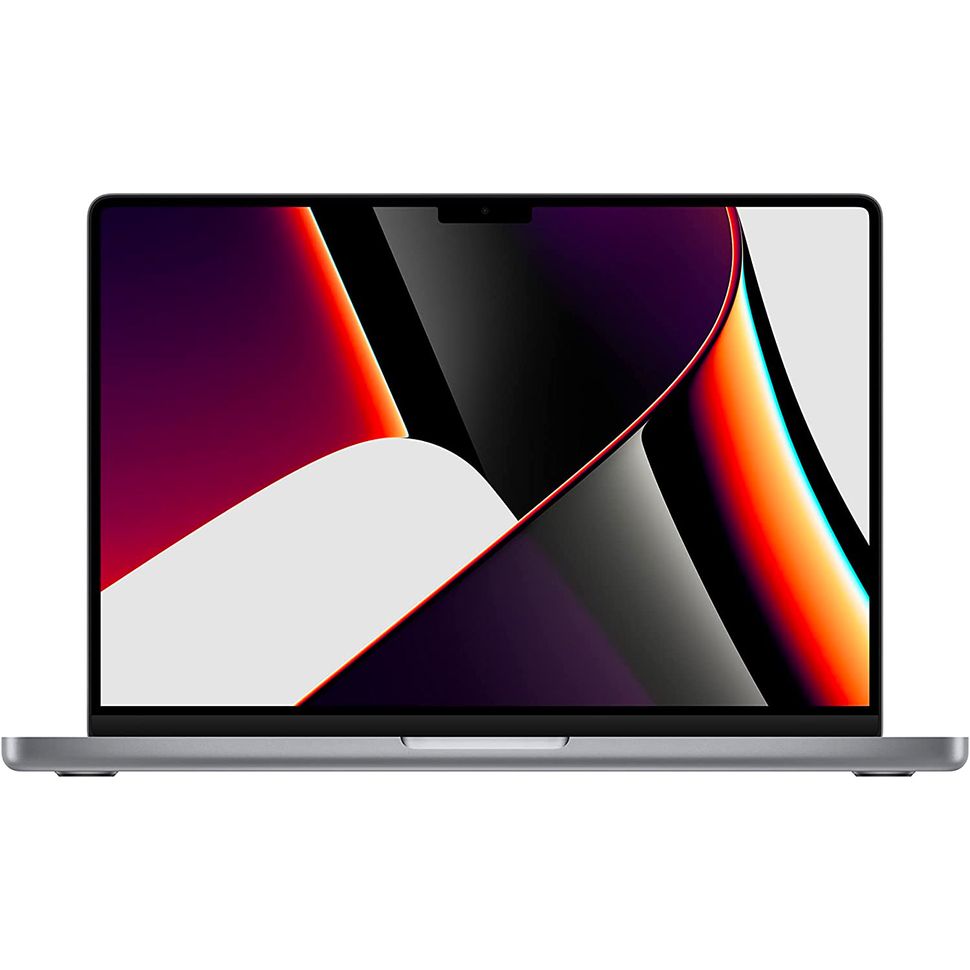 If you've used Apple MacBook Pro models in the past, you'll be well aware of the striking industrial design, Retina screens and the optimised marriage of in-house hardware and software combining to make a highly desirable, hugely capable laptop for music production. So to look at the 2022 Apple MacBook Pro 14", you might feel a little underwhelmed – we certainly were. It doesn't have a flashy new design, or a vastly upgraded screen. But what has happened out of sight, within the body of the machine, has been completely enhanced though.
Making use of the newest M1 Pro or M1 Max chips, the 14" model now has enough in the way of processing power and cutting-edge performance to suit even the most demanding of creative professionals. Configurable to include some frankly crazy specs, like up to 64GB of RAM and 8TB of SSD storage, this is a laptop for music production unlike any other. Yes, it's expensive – maxing out the configurator on Apple's website shows you could be paying around £/$6,000 for the highest spec version, but if you can afford it there is literally no other machine capable of doing what this laptop can do. You can read the full results of our testing in the review, linked below.
Read the full Apple MacBook Pro 14" review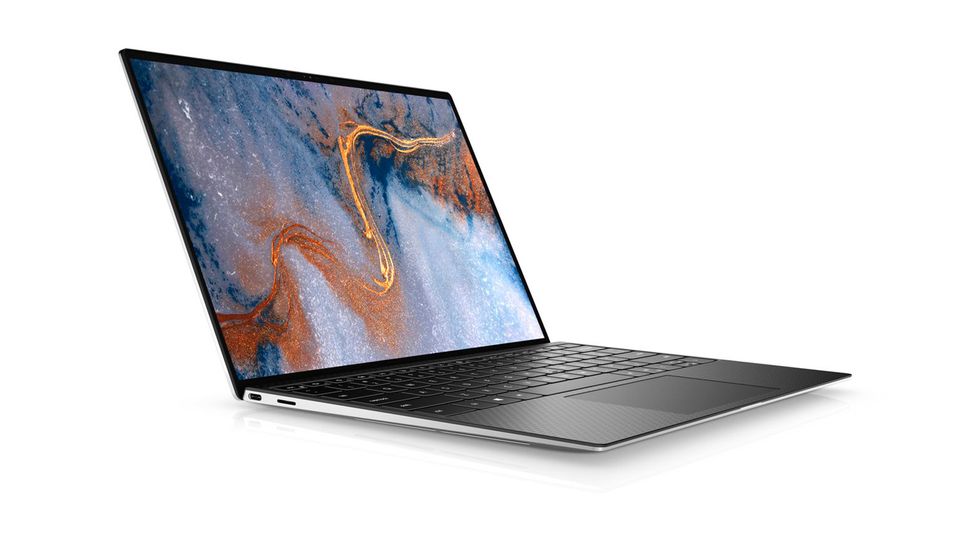 The Dell XPS line has built up a strong reputation thanks to its sleek design, gorgeous screens and powerful spec. They are billed as the ideal laptops for on-the-go creatives who don't fancy signing up to the Apple walled-garden, and the closest Windows alternative to an Apple MacBook Pro.
The XPS range delivers similar levels of style, quality and performance to the MBP, but using Windows as its OS. As it stands, other than looking at high-spec elite gaming laptops, you're not going to get a much better package for the money.
The latest model features a 12th-generation Intel Core i5-1230U, and a fantastic InfinityEdge Anti-Glare display. This might not be the show stopping headline feature a music maker will go for, but if the laptop is to serve other purposes like watching films or generally staring at in wonder, then this just be the perfect option.
There's a beefier 15" model further up the range, but for most people the XPS 13 makes for a pretty compelling package.
Read the full Dell XPS 13 9310 OLED (2021) review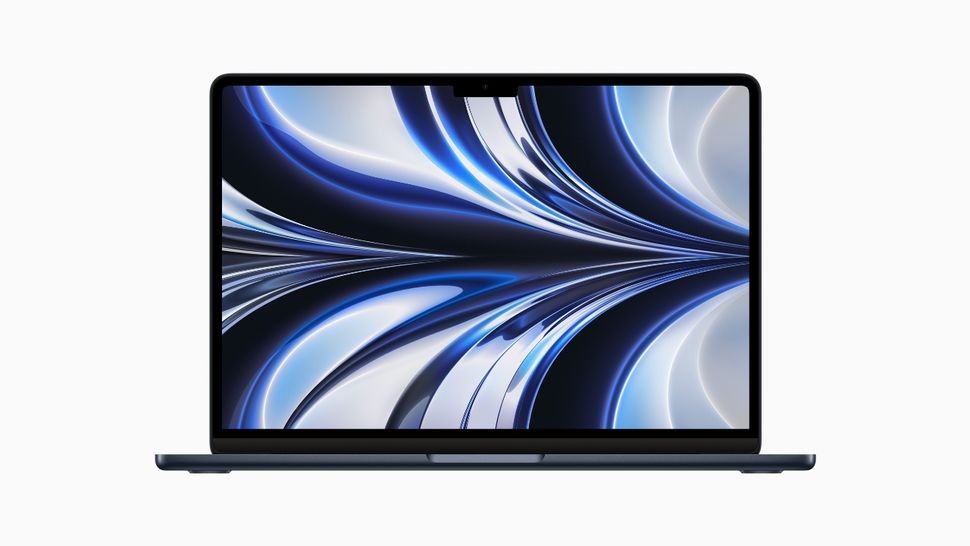 Apple's latest M2 MacBook Air feels like a new chapter of Apple use, and one that will drag your laptop music making to another level. At just 1.24kg, the MacBook Air M2 is Apple's lightest machine and also its thinnest, just 11.3mm deep. The all-new colours are great too (we opted for the light gold Starlight, although the Midnight option was a tempter).
The sound emanating from the Air's four speakers (which also support Spatial Audio) is so much better than a small form device like this should be capable of. You're not going to be using it for detailed mastering, granted, but it's almost good enough to mix with and very decent just for music listening. The battery life of the Air is good, although at a quoted 18 hours it's not quite up there with the 20 hours you get on a new M2 13-inch MacBook Pro. You also only get two Thunderbolt USB 4 ports on the MacBook Air, so if you want more than a monitor and said interface connected, you might need to think a little outside the (small) box. 
Some have said that not having a fan to cool it down is a big disadvantage when you compare this MacBook Air to the latest MacBook Pro. As music producers we'd disagree, to a point, and say that having no fan is a huge advantage, just in terms of noise. Does the new Air get hot though? For performance tests, we used the benchmark projects from logicprohelp.com (opens in new tab) and music-prod.com (opens in new tab) and found an 8% uplift for the M2 Air chip over our M1 Mac Mini in both Logic and Ableton Live tests. During these tests the Air did get warm, but not spectacularly so.
The M2 MacBook Air is beautiful, powerful and just about the best silent laptop you can buy for music production. One final footnote is that several sites have reported that the base model Air M2 (with a 256GB drive) is one to avoid as it suffers from the same speed problem as the M2 MacBook Pro 256GB (because of its chip configuration), so make sure you spec yours up to at least 512GB. Otherwise, we can safely say that, after making music on laptops for more than 20 years, the Air M2 is the music production laptop we've been waiting for.
Read the full Apple MacBook Air M2 (2022) review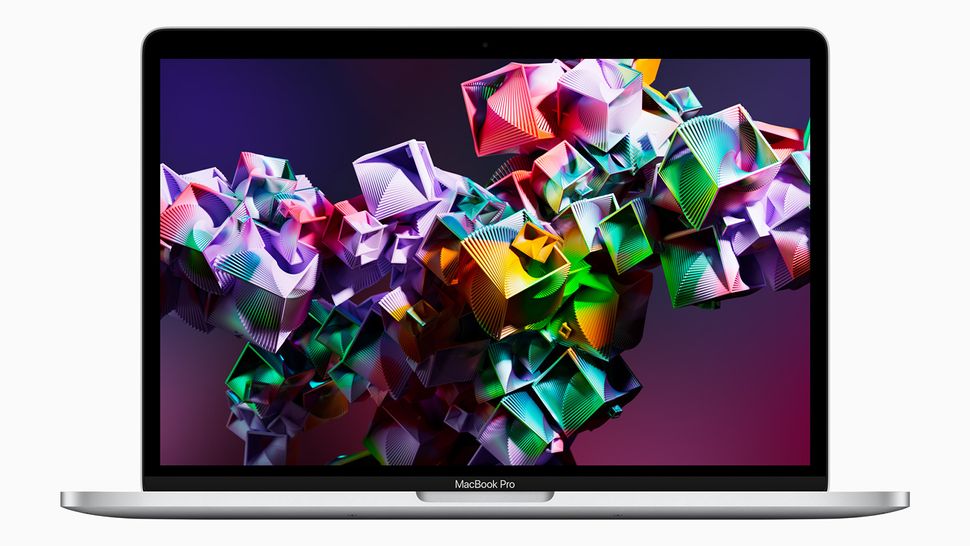 Apple's latest 13″ MacBook Pro is – alongside the Air M2 above – the company's latest laptop to feature the M2 processor and it certainly packs a punch in speed tests for musicians. However, while it outperforms the Air on some tasks it's not by the country mile you might have been expecting. 
The latest MacBook Pro M2 also still carries some of the baggage from previous designs – the infamous Touch Bar being a prime example. This was dropped from the latest 14″ and 16″ MacBook Pros but still lingers on with the 13″. It's a divisive feature that may or may not sway you either way. Personally, we think it delivered solutions to problems we didn't know we had, so we are quite happy to see it absent on the Air M2 and 14″ Pro, which are our current favourite Apple laptops for music production. 
You'll get the speed uplift with the Pro 13″ for some tasks, then, but we'd still opt for either of these other two Apples for now.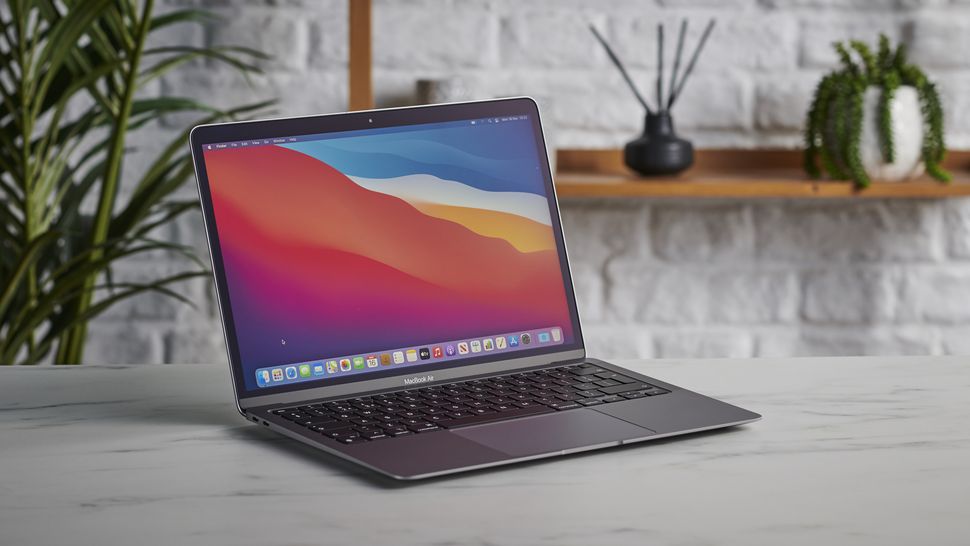 It used to be that if you were a serious music maker, anything under Apple's MacBook Pro line simply wouldn't cut it for the processor and RAM intensive tasks put upon it by audio production. With the M1 chip inside the 2021 Apple MacBook Air however, we were convinced that this argument could largely be put to bed, at least for the majority of home producers. Add into that the inherent benefits of the Air – slim form factor, weighs the same as a crisp packet – and you've got a pretty formidable production machine, particularly if your workflow involves travelling around. 
If we were being picky we could say it's slightly disappointing there hasn't been a design revolution – it looks largely the same as the Air range always has – and a few more USB ports would always be nice, but opting for Apple's cheaper model no longer means missing out on production performance in the way it once might have done.
You should also now consider the new M2 MacBook Air M2 over this M1 Air. However, while it will give you extra speed, it does cost considerably more, and the Air M1 is still the cheapest way to get into Apple's more stylish world of mobile music production.
Read the full Apple MacBook Air M1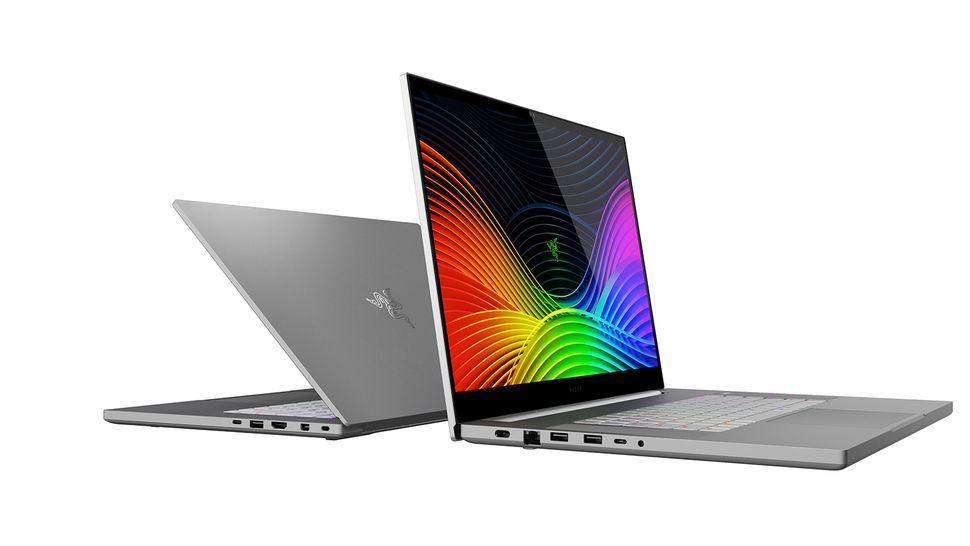 Think of a gaming laptop, and you probably imagine garish colours, RGB lights all over the shop and enough power under the hood to light up a continent. With the Razer Blade 15 Studio, however, we have a monstrously powerful laptop with its origins in the gaming world, but with its sights very much set on creative pursuits. There are some nice visual touches, from the customisable RGB backlighting on the keys, but otherwise this is a strong, slick studio beast which demands attention.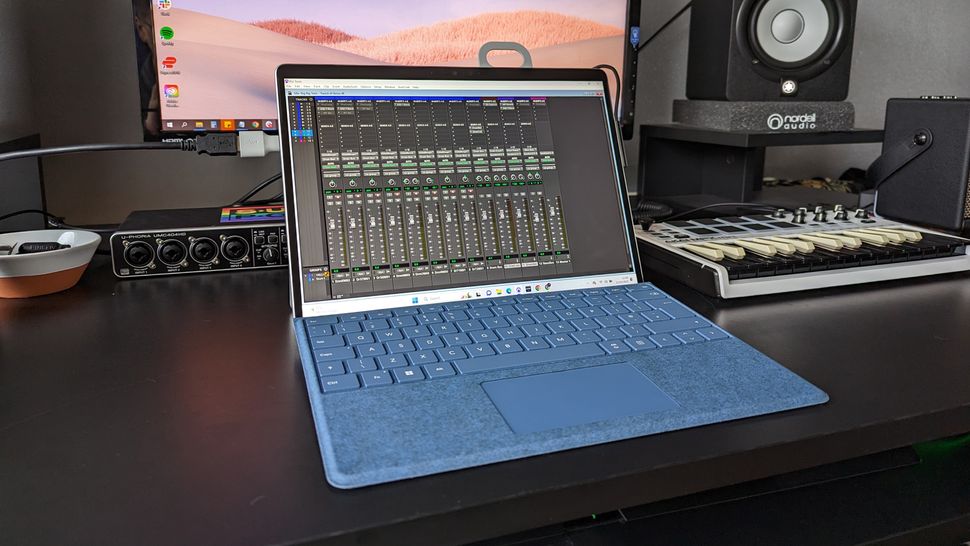 For Windows fans, their range of crossover tablet-slash laptops is a powerful option when considering your next music production laptop. The Microsoft Surface Pro 9 is an absolute beast of a machine, coming with a 12th Gen i7 processor, 16GB RAM, and a 256GB SSD drive, making it more than a match for vast music projects on the go or in the studio.
In our tests it performed admirably with a huge ProTools project, running well over 200+ tracks at an ASIO buffer size of 64 before we began to notice any pops and clicks. Compatibility is excellent as well, as at the time of writing there are no known issues with plugins and Windows 11, unlike a certain popular OS. 
The screen is stunning thanks to its 120Hz refresh rate, meaning that everything looks incredibly detailed and runs smoothly. It's got ten-point multi-touch capability too, offering some neat features for producers that allow you to quickly make adjustments without having to reach for the mouse. The ability to split it quickly and turn it into a tablet is a great feature in general, whether you're using it for music production or not.
Read the full Microsoft Surface Pro 9 review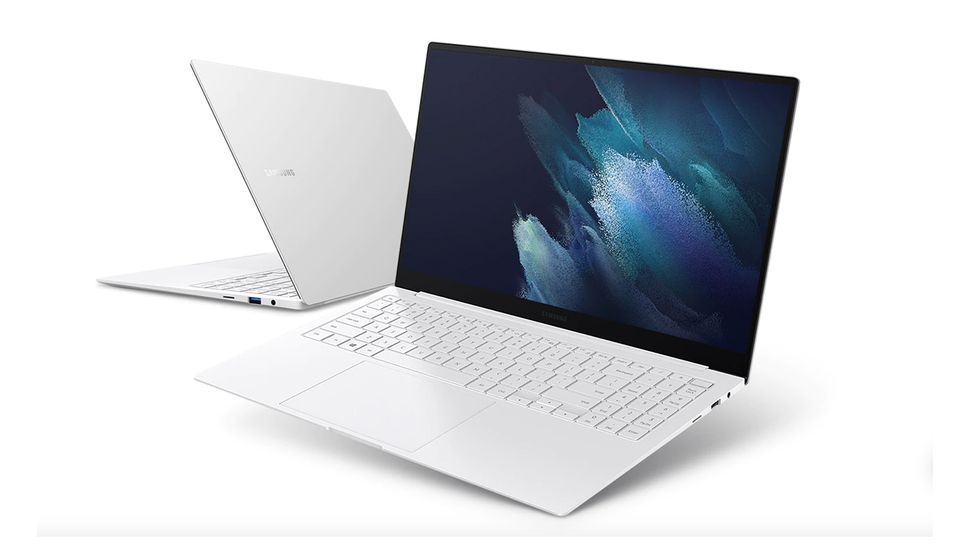 The Samsung Galaxy Book Pro is a reasonably expensive laptop as it is touted as a 'flagship' of the Samsung range. We have the 16GB RAM/512GN hard drive model here, although you can go cheaper by halving both specs. The good news is that the price is pretty much justified, as you get a thin and light laptop, great battery life and good performance. 
There's a wide selection of ports for musicians too, including an HDMI and two USB-C ports on the left plus an audio jack and USB-A port on the right, so you can connect a decent number of both old and new audio interfaces, for example. 
The screen is bright and vibrant, the keyboard feels very solid and in use the laptop is very capable, handling multiple applications with ease. It also integrates well with other Samsung devices like smartphones – the company is clearly trying to make the process as straightforward as Apple's device integration. 
Samsung Galaxy Book Pro is powerful and portable, and delivers most of what you need for music. It's a little pricey but a great option for people with other Samsung devices. It's a solid laptop with a lightweight feel and extended battery life that justify the price.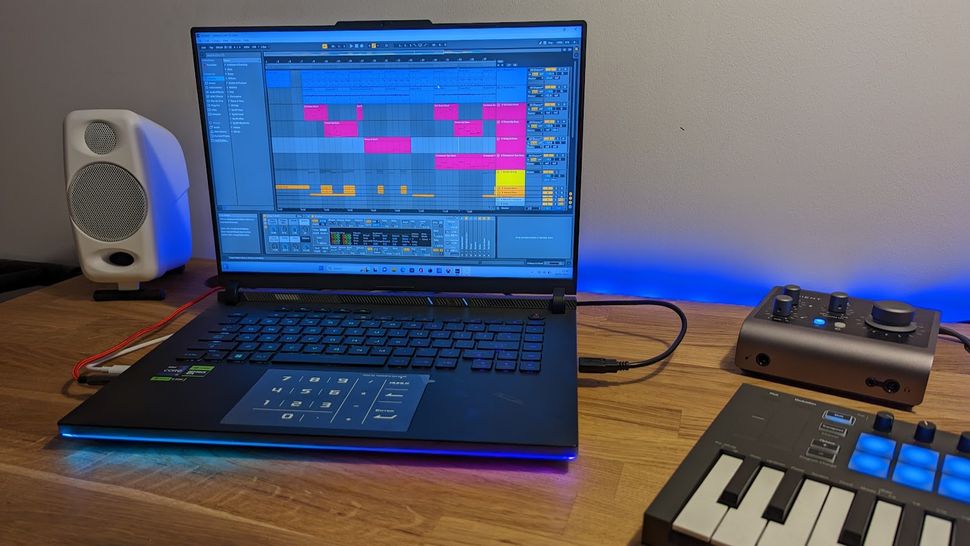 At the higher end of the gaming PC spectrum – not a bad place for music producers to look when sheer power is required – there are some serious studio contenders. The Asus Rog Strix Scar is evidence of this; with an Intel i9 processor and a base spec of 16 GB of RAM, you know this machine can chew through any audio production task you throw at it. 
Hudson Mohawke, the Scottish electronic producer, is a known fan of the Strix range, and with good reason. Once you get past the garish colour scheme and 'edgy' gamer branding, you have an immensely capable, lightweight computer that would rival many traditional desktop arrangements.
Read our full Asus Strix Scar 16 review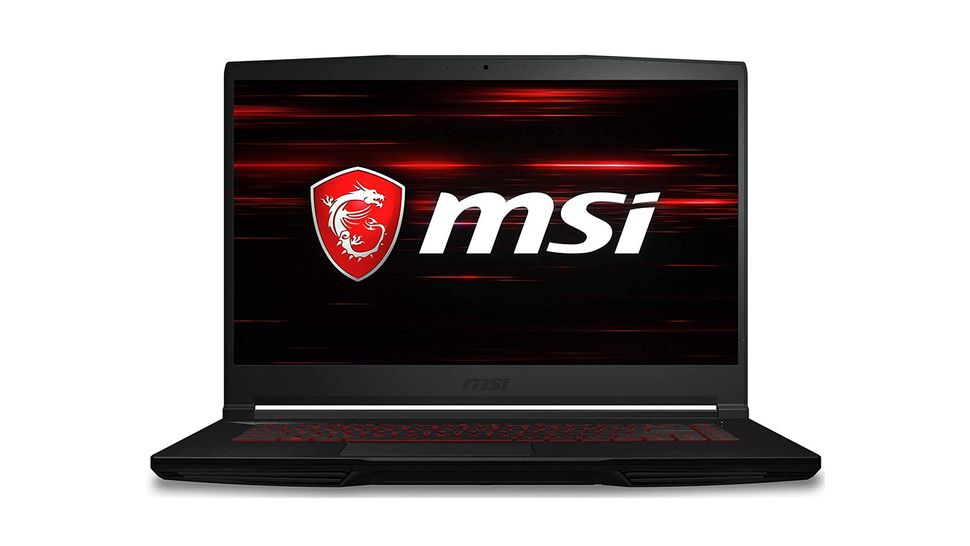 MSI is one of the more respected names in gaming PCs, so it figures that their flagship mid-range offer features some decent internals. The MSI GF63 is the ideal blend of performance and aesthetics, and would make a superb laptop for anyone using their laptop for live performance or as a portable studio on account of its thin form factor and cooling features. 
Performance-wise, it's packing a 2.4 GHz i5 processor, so solid enough to cope with most tasks. We liked the potential for upgrading though; it ships with 8GB of DDR4 RAM installed, but with space to house up to 64GB so the potential for future-proofing your rig is clear. As your live sets or studio sessions grow in size, so too can your laptop.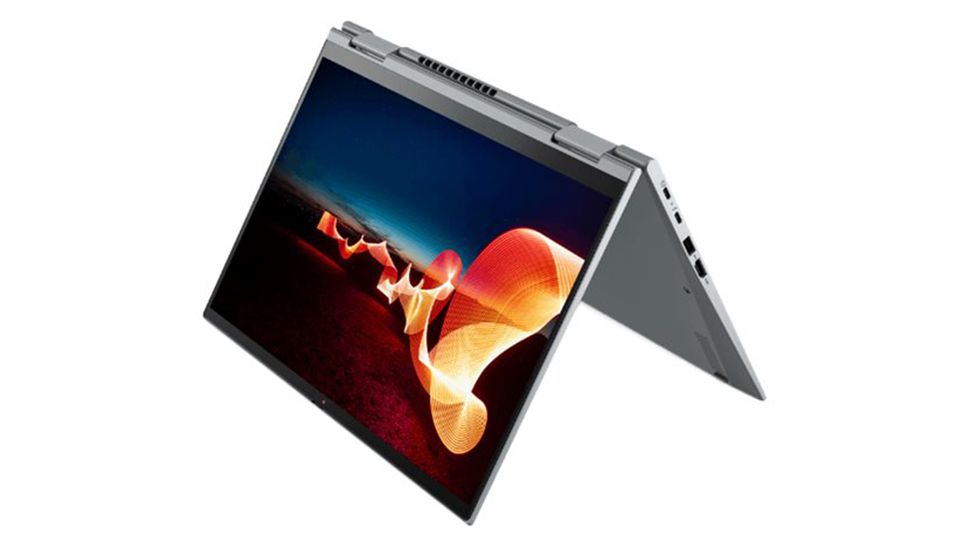 Lenovo's ThinkPad X1 Yoga is the latest refresh for the company's flagship laptop and is the most expensive, although we also rate cheaper machines in the X1 Yoga range. As it features a touch-screen in its 2-in-1 design it is also a tablet. It runs Windows so will take on the most advanced music production applications, and the addition of Intel's 11th-gen Tiger Lake processors means it will run them with ease.
ThinkPad X1 Yoga comes loaded with connectivity for additional music peripherals. You get two USB Type-A ports in addition to the two Thunderbolt 4 USB Type-Cs, as well as an HDMI 2.0. The display is outstanding, a 16:10 touch screen – great for software that is optimised for touch. You might want to up the memory to 16GB and storage to 512GB from the standard spec (which is half these) but then you are adding to an already high price tag. 
If you want the touch screen portability of tablet music making on top of a laptop/Windows OS experience, they don't come much more powerful. Just be prepared to lay out some cash.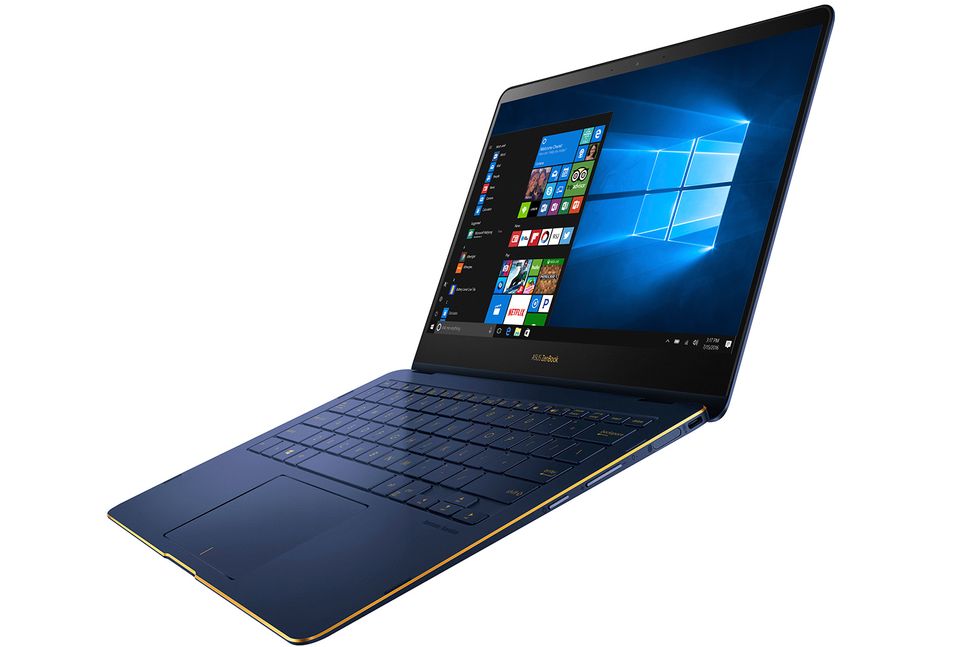 Asus has struck gold with its new refresh of its ZenBook Flip S 2-in-1 laptop, with the Asus ZenBook Flip S UX370 impressing us so much it's made it's way into our list of the 10 best laptops for music production you can buy right now. 
With a new Kaby Lake R 8th-generation processor powering the device, plenty of RAM and a super-fast PCIe SSD in certain models, this is an absolutely stunning addition to our rundown of the best laptops for music production.
Its 2-in-1 design means you can use it as both a laptop and a tablet, and while it's not as affordable as some machines on this list, if you have the budget you'll be really happy with this fantastic device.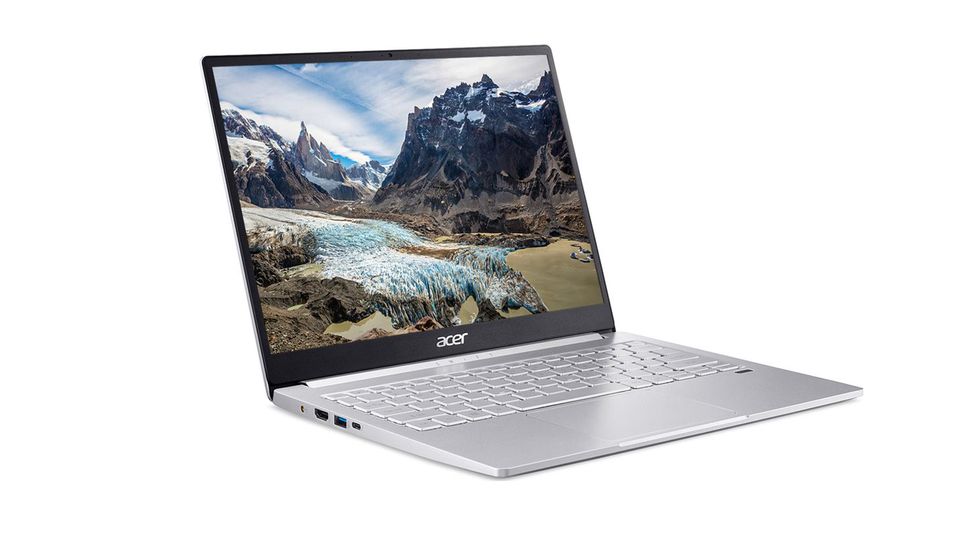 While you may have been convinced that 'budget Ultrabook' was an oxymoron up until this point, the Acer has turned this common misconception on its head with the Swift 3. That's because the company has taken the all-aluminum chassis of the Acer Swift 7 and stuffed some more affordable components inside for everyone to enjoy. 
It doesn't run macOS, but the Acer Swift 3 does put the age-old MacBook Air to shame in about every other regard, including the nigh-unbeatable price tag. Of course, in the process of demolishing the competition, Acer did have to cut a few corners in order to keep the price so impressively low. 
So although you can't expect much in the way of an Ultra HD display or quality onboard sound, the performance benchmarks alone give even the Surface Laptop a run for its money.
Best Laptops for music production: Buying advice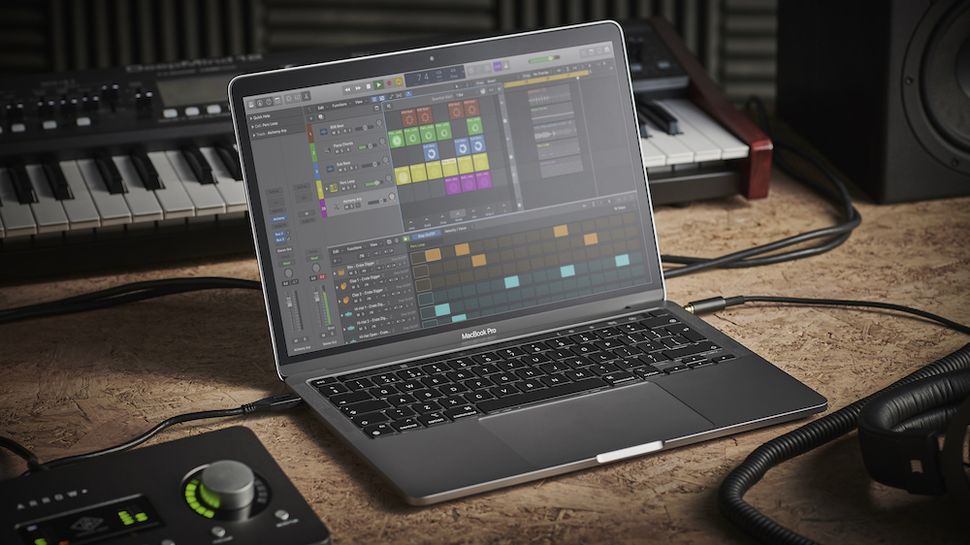 How to choose the best laptop for music production
Choosing a laptop capable of running CPU-intensive audio production work can be tricky. Some options focus heavily on battery life. Others major on performance, and favour higher-grade processors (CPUs) to ensure operations run snappily. Add into that differences in screen sizes, aesthetics and any number of other variables and we can easily see how it's hard to justify buying one model over another.
There are certain characteristics you'll look for in a laptop, regardless of whether it's for producing music or editing video. Namely, you are looking for that sweet spot of power, performance and price. We all wish that last part wasn't a factor, but it is. Not to worry though, as there are supremely capable laptops coming in at some very sensible prices right now. So what are the specifics that make a great production laptop?
Ultimately, when we say performance, in this context we mean how fast the laptop can process things, and how quickly it can access, write and modify stored data. If you're a sample-based producer and have gigabytes of stored loops and one-shots, then you will want to focus on a machine that offers super-snappy access to your stored media. And, while they come in a little bit more expensive than traditional hard disc drives (HDD), the only real option nowadays is a laptop that comes with a solid-state drive (SSD). Solid-state means there are no moving parts – so nothing to go wrong or fail – but with rapid data transfer speeds so you're not waiting on that pesky progress bar.
Which CPU is best for music production – Intel, AMD or Apple?
Essentially, a faster processor (or CPU) means two things; your computer can handle more tasks being thrown at it, and it can 'process' those things a lot quicker. You may see only small differences; perhaps an audio file will render one minute quicker using the faster of two processors, but over time this clearly adds up.
In the CPU world, there are two major players. Intel is the big name, with a huge share of the market. Intel's range goes from i3 – the least powerful – all the way up to i9. Most common in mid-to-upper tier laptops, however, are the i5 and i7 variants, and within that sphere you have different speed ratings, measured in gigahertz, as well as the option to turbo-boost when you're placing the computer under major stress. The other name to look out for is AMD, which produces the Ryzen processors. These follow a similar nomenclature to the Intel versions, so R3, R5 and so on, and are popular amongst the gaming crowd.
There is another path to consider though. Apple has a great heritage in producing machines designed for creative pursuits, and just as the rest catch up with them, it flips the script again. You may have seen newer Apple machines with something called an M1 chip inside them. This essentially combines many of the laptops internal components onto a single chip, resulting in incredible power and overall system efficiency. This has since been further succeeded on Apple's newest machines with the M1 Pro, M1 Max and now M2 chips.
The good news is that these gains absolutely benefit producers, offering best-in-class performance and processing grunt, while also delivering longer battery life and other optimisations. Put simply, Logic Pro X users on an M1-based machine are at the head of the DAW pack right now. The bad news, however, is that many third-party software brands haven't yet made the switch required to make the most of it. More are catching on, with big names like Ableton and Akai offering full native support. 
The best advice we can give is to do your research – all of the major developers are aware of the new chips, and are likely working on native support, so it depends on your current setup and desire to rock the boat. If you can, and don't anticipate major problems, then we'd absolutely advise looking at these new breeds of MacBook.  Read on for more detail on Apple's latest processors…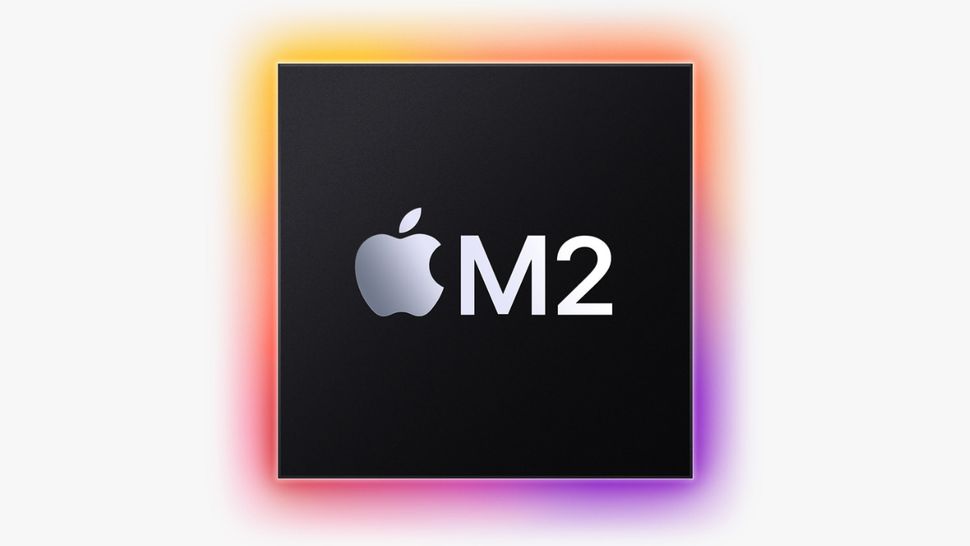 What do I need to know about Apple's new processors?
Until late 2020 Apple computers used Intel processors – the same type that you'll find in most PCs. Since then the company has been introducing its M range of chips, so far the M1, M1 Pro, M1 Max, M1 Ultra, and the new M2 Pro and M2 Max (currently available in the new Mac Mini and 14- and 16-inch MacBook Pros, which we'll be reviewing soon). These combine both CPU (central processing unit) and GPU (graphical processing unit) on one chip, with each indicated by a number of cores – and the more of these, the better in terms of power.
The base M1 processor has seven or eight cores of each and is found in the original Air, 13″ MacBook Pro, iMac and Mac Mini. The M1 Pro processor ups the number of cores to 10 CPU and 16 GPU and is found in the 14″ and 16″ MacBook Pros. These can also be configured with the M1 Max processor which handles up to 10-core CPU and 32-core GPU.
The Mac Studio also features the M1 Max, but can also be configured with the top of the line M1 Ultra chip that goes up to 20-core CPU and 64-core GPU. The Mac Pro, meanwhile, is in a different league, offering Intel Xeon CPU processors and Radeon graphics options that can set you back up to $/£50k, so we'll stick with the M range for now!
Finally the all-new M2 Pro and Max processors boast up to 12-core CPU and 19-core GPU and 12-core CPU and up to 38-core GPU respectively, and while they will outperform the original M1 (by up to 20%), they won't quite beat the M1 Ultra chip.
If all of this talk of M-range processors is baffling, just take away one fact from it. In our tests the M range outperformed the original Intel Mac processors by at least three to one, so whichever M chip you choose, expect a big power boost over your old Intel Mac.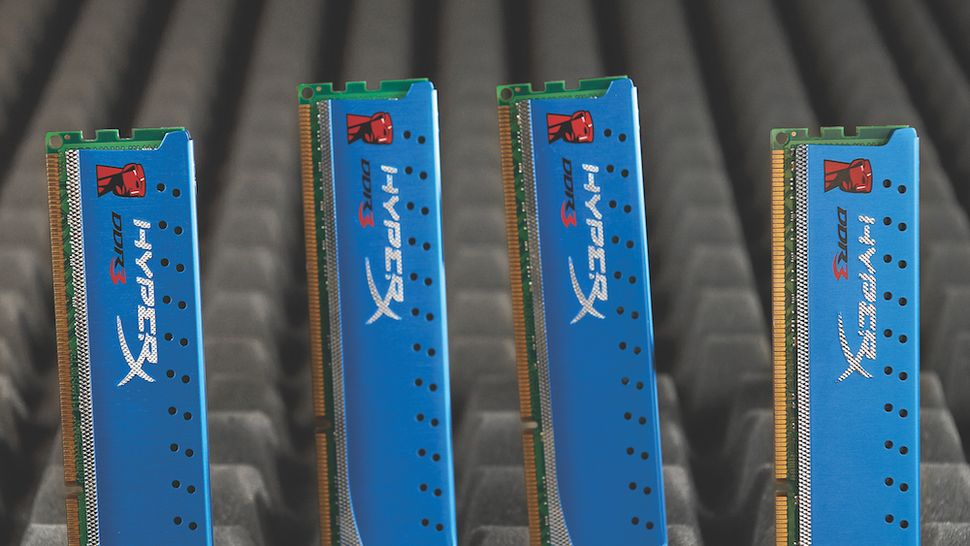 How much RAM does your music making laptop need?
With RAM, as we mentioned, you can ignore the 'minimum specs' listed on the websites of the major DAWs. Anybody who tries to run a multitrack Ableton Live session on a laptop with 4GB of RAM is braver (or more patient) than we are. That's because RAM is effectively the short-term memory of your machine. With audio applications, particularly those involving lots of recorded audio, a higher amount of RAM means your audio playback is buttery smooth and glitch-free because the computer isn't having to 'grab' the audio from the hard drive each time it wants to play.
If you're buying now, with the next few years of use in mind, we'd suggest 8GB of DDR4 memory is the absolute minimum you should be looking for. Ideally, you'd want 16GB, as this will handle much larger arrangements, although there is a cost to this extra resource. 
It's also worth investigating whether the laptop you choose can be upgraded with extra RAM in the future. Apple laptop fans won't have this luxury, due to their sealed chassis, but laptop PC users might.
How much storage do I need?
Storage memory comes a close second. For audio applications, particularly those involving sample libraries where audio is streamed from disk, you'll want to use a solid state drive (SSD). The benefit of these drives is the rapid data transfer, meaning files load quicker, although they are slightly more expensive than their hard disk drive (HDD) equivalent. For music production applications, however, the extra expense is totally justified.
It's not uncommon however to see a combination employed – a HDD for storage of files, photos and videos, and an SSD for tasks where more instantaneous responses are required. The alternative involves using external hard drives; SSDs, particularly those that take advantage of USB-C technology, are more than capable of the types of transfer speeds required for music production.
Mac vs Windows: which is right for you?
MusicRadar's got your back
Our team of expert musicians and producers spends hours testing products to help you choose the best music-making gear for you. Find out more about how we test.
So, we reckon this debate will rage for eternity, with many evangelising the Windows infrastructure, while others remain eternally devoted to Apple. There will always be two camps, but in truth either will serve you well for music making these days. 
That said, if money is no object then we would recommend exploring the Apple route – it's no coincidence that four of the top five music production laptops in this guide bear the Apple logo. They just work for music – with killer hardware and audio optimised spec – and as the M-series chips continue to evolve and developers invest in making their software and plugins cooperate, making music on Apple machines will remain firmly ahead of the game.
Of course, not every producer has the budget for Apple and there are so many great Windows alternatives in this guide that will do a similar job for much less, with the added bonus of being to upgrade hardware like RAM to keep up with the game – a feature that's distinctly lacking on Apple machines. 
How we choose the best laptops for music production
So, clearly there is a lot to think about when choosing the best laptop for music production.
It's easy to see why a good all-round laptop can fetch a premium price tag, but, as with anything from the best samplers and studio monitors to home studio mixers, you get what you pay for, so it's always wise to get the best you can afford, rather than skimping and regretting your purchase later (often quicker than you thought). Our price comparison software will come in handy here. Next to each product entry on this guide our price widgets will display the best deals online right now to save you shopping around.
In this guide we don't focus on various legacy ins and outs, such as the number of USB sockets, or lack of, for your audio interface, and so on. With so many dongle and docking options available, this shouldn't be a deciding factor in your purchasing journey. In this guide we're talking sheer horsepower for music-making. For example, can your portable rig cope with large multitrack sessions, running handfuls of plugins and MIDI instruments?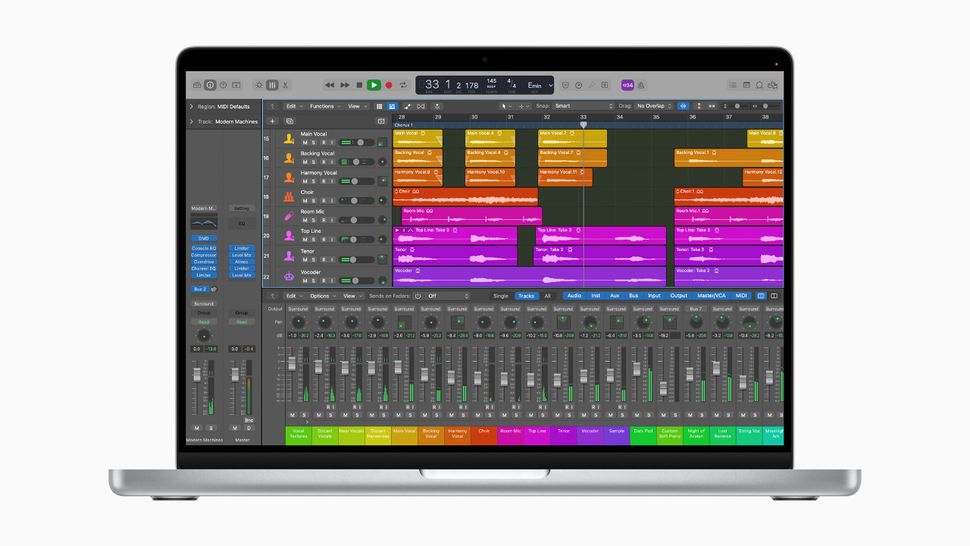 How we test laptops for music production
When testing a laptop for music production, we take into account a variety of design aspects, features and power. On a basic level, a music production laptop must be portable and powerful. For the latter consideration, that's why we often include those gaming laptop PCs as they are designed to deliver clout. 
Obviously a lightweight design is great, but we also need connections – Thunderbolt, USB-C or even A for older interfaces. Really the more the better, although most Apple laptops now only feature a couple of Thunderbolt 3 ports which you can just about get away with for music. 
In terms of power, it is often difficult to compare processors just on their specs as they can work very differently in a real world music production environment. With that in mind, where possible we compare and contrast by using standard DAW projects from the likes of www.logicprohelp.com (opens in new tab) and www.music-prod.com (opens in new tab). Here you simply run the project and add audio tracks until your machine falls over. You then get an idea of the power of a particular processor in a real production scenario. 
Finally we'll also look at screen and speaker performances. Certainly Apple excels at these with recent speaker designs that can be (just) used for mixing plus vibrant screens that help you see everything your DAW has to offer.
Read more about how we test music making gear and services at MusicRadar.