The best audiophile headphones for gaming in 2023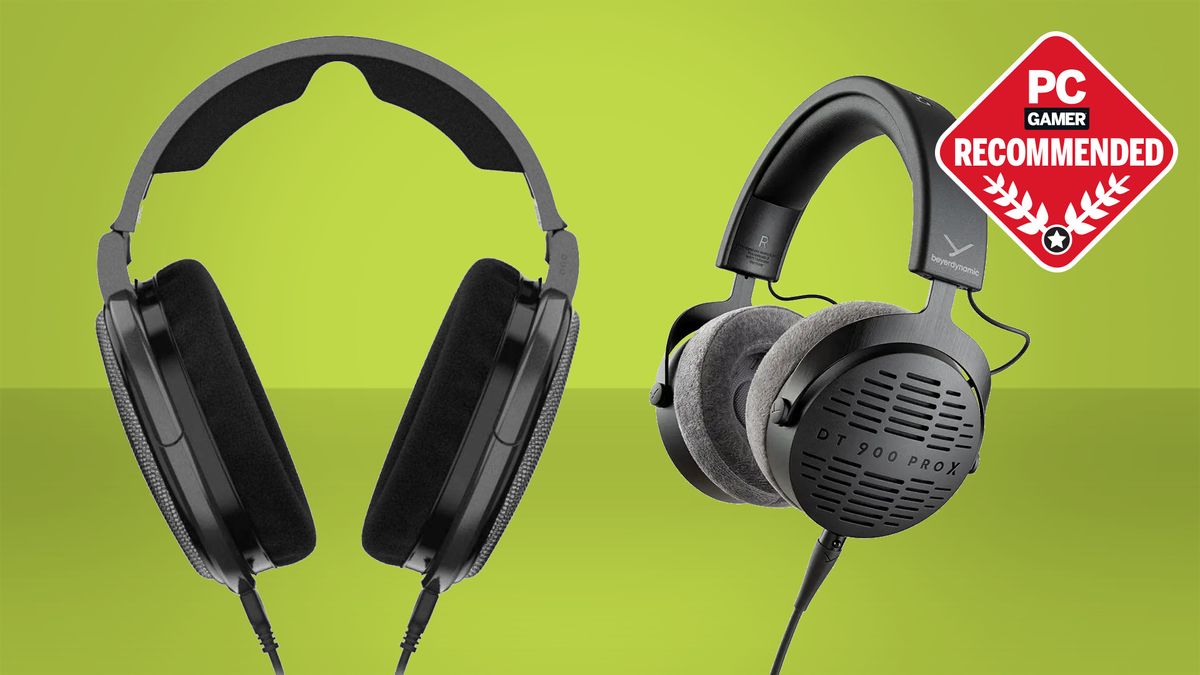 The best audiophile headphones for gaming are excellent for immersive gameplay. You might think it's overkill to use high-end headphones for gaming, but they can transform your experience. They can simply make your games sound so much better than a cheap headset ever can.
Great audio is a staple of PC gaming, and your PC is very likely set up to deliver everything that excellent audio has to offer. You might want to look into picking up a sound card or a DAC/Amp down the line, but they're not essential, at least not straight away. These audiophile headphones are the sort that offer impeccable sound quality out of the box without fancy greebles like RGB lighting. The headphones we've had cradling our ears for review will produce stellar sound and stand out from the best gaming headsets (opens in new tab) in our testing.
Few audiophile headphones have microphones, but that's less of an issue than it has been in the past. Not because we believe in solo gaming as the only way to play, but because cheap gaming microphones (opens in new tab) are fantastic these days. Headsets like the Nuraphone have microphone attachments you can order to convert your set of cans into a gaming headset. 
Don't expect to see that many gaming-related features mind, such as 7.1 surround or fancy RGB illumination, as these headphones are built for the purest aural experience. Which also means they tend to be a lot more expensive, too. Especially when the focus is comfort and sound. 
The audiophile rabbit hole is something it's all too easy to fall down when you start chasing a sound that can't be caught, but can you really put a price on total audio immersion? No. And yet, we've tested and ranked the headsets below with pricing in mind, so you can better understand which will suit your audiophilic needs.
Best audiophile headphones for gaming
The very same qualities that make the Beyerdynamic DT 900 Pro X perfect for long hours of critical listening, mixing, and mastering of audio are perfect when gaming. And you get everything needed in a set of headphones for gaming. Let's start with the build and comfort. These are extremely well-built headphones with a level of comfort that is hard to beat.
Forget even lambskin leather, these pads wrap your ears with heavenly comfort. The huge circular velour pads completely cover the ears and fellow bespectacled gamers won't face any discomfort either. I don't know how long they'll last but thankfully, they are replaceable.
The spring steel headband has memory foam padding and keeps those muffs well clamped to your head which gives the excellent sound seal despite the open back nature. While you can hear your environment, it's not as transparent as something like my Drop PC38X. Initially, the clamping force was way too strong that I couldn't comfortably wear them for longer than an hour. I had to manually stretch them out over a few days and now they're perfect for me.
Beyerdynamic includes two different cable lengths cables; 3m and a shorter 1.8m for console gamepads, Nintendo Switch. or smart devices. These cables didn't make any noise, which was something that was present on the MMX 100. The low power requirement of 48 ohms allows you to use the DT 900 Pro X on almost anything without needing an amplifier too.
As an open-back style headset, the DT 900 Pro X surprised me with how punchy the audio is unlike the somewhat anaemic, airy audio I've experienced in other open backs. The STELLAR.45 driver employed here is perfectly tuned for a flat profile that slaps whatever you're listening to. From classical sonnets to Snoop Dogg bass hits, nothing sounded bad.
Forget your typical bloated gamer bass. The DT 900 Pro X is almost surgical in precision, allowing me to hear layers of bass that hits just right without ever dominating and muddying the equally sharp highs. Beyer really wasn't kidding when they said these cans are for critical listening. You hear everything.
I've only recently started playing the exceptional Ghost of Tsushima and these headphones bring the game world to life in a way that's just hard to describe. From the Samurai inspired soundtrack to the guttural sounds of a dying Mongol to the gentle sounds of wind chimes moving in the wind. You hear everything with a level of clarity and liveliness better than any set of headphones I've ever used.
Being open-back, the audio has room to breathe giving it a more natural sound that has you stopping to check if what you're hearing is in the game or the real world. Listening to the sounds of rushing streams, birds chirping, and oh boy, the guiding winds blowing through the gorgeous forests and fields truly made me feel like I was in the world.
Turning to competitive shooters like CoD Warzone and Apex Legends, the impressive clarity and fantastic audio positioning make it easy to identify the location and relative distance of opponents. Every bullet sings and whines, explosions boom and shake and environments come to life.
With all the qualities mentioned above, it goes without saying that if you are into content creation, the DT 900 Pro X will help you create the most accurate audio for your audience. Since a lot of us are now dabbling in some form of creation be it streaming, podcasting or YouTube, these are a no brainer. 
Read our full Beyerdynamic DT 900 Pro X review (opens in new tab).
Sennheiser has made a mighty name for itself in the audio equipment game. That's primarily built on headphones like these: the Sennheiser HD 650. This quality pair of cans sets the standard for high-end home audio thanks to highly detailed drivers and a gorgeous open sound.
Jacob uses this exact pair of audiophile headphones at home. They're his pride and joy, so, yeah, he's been raving about them. But they really are very good for the money. He landed on the HD 650, as the tried and tested audiophile option.
The HD 650 is a prime advocate of the so-called "Sennheiser sound". That means it excels at the high-end and delivers superb clarity and definition right the way through the frequency range. I've found it is definitely lighter on the bass response compared to most gaming headsets and planar magnetics, though, and whether that flatter sound works will have to be up to you .
But you could say that lighter bass is because this pair of headphones isn't trying to augment your audio—only delivering something close to the real digital deal. For that reason, I think this is a great headset if you want to chase spotless audio delivered impeccably through a wide soundstage. That's also why it's a shoo-in for every aural experience, be that gaming or listening to music. For me, its a great fit for pretty much everything.
And if you balk at the price, the Sennheiser HD 650 are very well built and the second-hand market is a great place to find a slightly cheaper pair. I wouldn't pay the full price as listed on the Sennheiser Hearing website today ($400!), as you will find a new pair for cheaper elsewhere. But don't expect any massive discounts (unless you're lucky); these headphones tend to hold their value.
One thing to note: Sennheiser recently sold off its audiophile headphone business to hearing aid company, Sonova. There's not been much of a change in how things are run since the acquisition has gone through, and you'll still find the same headphones  as described under the Sennheiser brand. There's just been a corporate change-over in the background.
Whether you consider this a pair of audiophile headphones is subjective. I'll admit 'cheap audiophile headphones' is an oxymoron, as audiophile status is mostly reserved for the high-end. But I do believe there is great audio quality on offer on a tighter budget, and these Drop + Epos (formerly Sennheiser's gaming division) PC38X headphones are prime example of that.
The PC38X is one of the best gaming headsets I've used in terms of raw audio quality. The sound from these PC38X's is superb. They're open-back, so I went in expecting a wide and open sound from the get-go, but even so I was initially surprised by how crisp and expansive these first sounded while listening to music. Whichever genre I throw at this pair sounds fantastic.
There's a surprising oomph to the bass response on these headphones, and that's not what I'd have guessed these would've sounded like before I put them on. There's still tons of that typical Sennheiser definition in the high-end, but right the way through the mids and bass there's a well-defined response. 
Heck, even when it gets down to the lowest frequencies, you really feel it all through the PC38X.
When it comes to gaming, the PC38X doesn't let up. That impressive imaging and spacious sound works wonders while playing Hunt: Showdown, and it was as much a match for Elden Ring's atmospheric soundtrack and sudden sounds as it was Forza Horizon 5's banging tunes.
The benefit of these headphones being a primarily gaming number, is that the microphone is also a high quality, and integrated, unit.
It's the same microphone and boom arm construction you'll find on any number of Sennheiser Gaming/Epos headsets today, but that's not such a bad thing. The flip-to-mute function is great and it keeps the mic arm comfortably away from my face during use or when stowed away. It's a little bendy too and its position is able to be ever so slightly tweaked for a better fit.
The microphone on the PC38X sounds good, too. It's clear, and the bass response is good, but not too much so. You shouldn't have any issues being heard by your mates over chat anyways. It does tend to pick up plosives a little bit more than, say, the Corsair HS55 Stereo (opens in new tab) I've tested, and you might find you need to bend it quite far from the face to deal with that. But generally it's a solid number that gets the job done without picking up too much background chatter.
If you're foremost looking for high quality audio, but you're on a tighter budget than most of the audiophile headphones in this guide ask of your bank account, my recommendation is absolutely the PC38X.
Read our full Drop + Epos PC38X review (opens in new tab).
I've heard about the Nuraphone from folks who've backed it on Kickstarter for years now. As it turns out, people who like Nuraphone headphones really like Nuraphone headphones. 
The Nuraphones have already gone through a handful of significant updates since their successful Kickstarter launch three years ago. Most notably, the introduction of active noise cancellation (ANC) software update and a gaming microphone attachment ($50) attempt to rival even the most premium gaming headsets. 
You'll notice something slightly different about the Nuraphones from the images below, and I'm sure you're already asking, 'what's the point of those things on the inside?'
Aside from giving you two layers to block outside noise, the twinned design also offers parallel drivers on each ear. The uvula-like in-ears offer the upper-frequency goods and leave the low-tones and deep bass to the better-suited over-the-ear portion. It's like having a pair of speakers for both left and right channels.
The Nuraphones have already gone through a handful of significant updates since their successful Kickstarter launch three years ago. Most notably, the introduction of active noise cancellation (ANC) and a gaming microphone attachment ($50) attempt to rival even the most premium gaming headsets.
The Nuraphone is, simply put, a beautifully designed headset with a lovely compromise of silicone and stainless steel. It's simple, modern, and isn't embarrassing to wear in public. The minimalist design gives me plenty of Bose NC Headphones 700 vibes with its slim headband and roomy ear cups.
As much as I dig the look of Nuraphones, there are limitations in the design that affect day-to-day use. The lack of controls or knobs puts you in this weird position of choosing what sort of headset controls matter to you the most. Each side of the headphones has one touch-sensitive button that relegates things to single and double-tap controls. I wear glasses, so whenever I fiddle around with the headphones to get the right fit, I accidentally tap the capacitive buttons. I find myself skipping tracks or suddenly playing music in the middle of a work call more often than I appreciate.
Despite these issues, the Nuraphone offers incredible sound. The personalized audio tuning feels like the headphones provide the 'right sound' for my ears. The Nuraphone is an excellent set of wireless headphones, and the gaming microphone attachment makes it a decent gaming headset. 
It's one of the best-looking pairs of cans you find right now, and custom sound profiles offer rich and detailed soundscapes like no other thing out there. If you're looking for a headset for just gaming, the Nuraphones aren't it, though—$450 (adding in the microphone, which is a must for gaming) is simply too huge an ask if you are mostly looking for gaming-centric features.
Read our full Nuraphone headset review (opens in new tab).
These pro studio-grade cans feature large 50mm drivers and have a wide frequency response of 5Hz to 40kHz. They are excellent for music and, more importantly, gaming. My favorite thing about the M-200 is the light, compact design. At only 290 grams, it's a great candidate for commute, work, and play.
But these are absolutely reference headphones, and that means you are getting a flatter EQ than a standard gaming headset. That's exactly what you want when you're trying to master a music track or edit the audio on your latest video, but such a neutral aural experience find can sometimes feel lackluster when it comes to a gaming experience.
If you're after purity of sound, however, the V-Moda M-200 headphones really do deliver, and their closed-back design means you get good audio and decent noise canceling too. The aim is to get you "closer to perfection," and they certainly do get mighty close.
My only gripes are that the headset can be a tight fit for those with big noggings (like myself) and the surprising lack of a Lightning/USB Type-C adaptor. V-Moda sells a Lightning cable for $100, which is pricey considering the headset already costs $350.
Best gaming laptop (opens in new tab) | Best gaming monitor (opens in new tab)
Best PC controller (opens in new tab) | Best capture card (opens in new tab) | Best SSD for gaming (opens in new tab)
Are audiophile headphones good for gaming?
If you want the best sound in your games, then picking a pair of headphones designed to deliver perfect aural clarity and defined, accurate audio is going to deliver a great gaming experience. Throw in an open back pair design, and you'll hear the most natural reproduction of your chosen gameworld that you can possibly achieve.
The downside is that audiophile headphones are expensive, benefit from good sound hardware inside your PC—yes, there are still soundcards out there, people—and the open operating principle means there can be a fair bit of sound leakage and no passive noise cancelling.
You also don't get a microphone on most audiophile headphones, but such is the wealth of great budget gaming mics, that's not an issue.
Are open back headphones good for gaming?
An open back headphone design will give you the most natural soundscape for your games, which is especially immersive in large, open-world games. It's also less fatiguing on the ears for a long gaming session, too, because the sound waves don't just bounce around your lugholes.
Closed back headphones, however, are good for noise isolation and if you game in a room where other people might be affected by the sounds leaking from your cans. But the closed design can affect the sound itself, as it interacts with the ear cups.