The Best New Gear, Gadgets and Other Products We Saw at CES 2023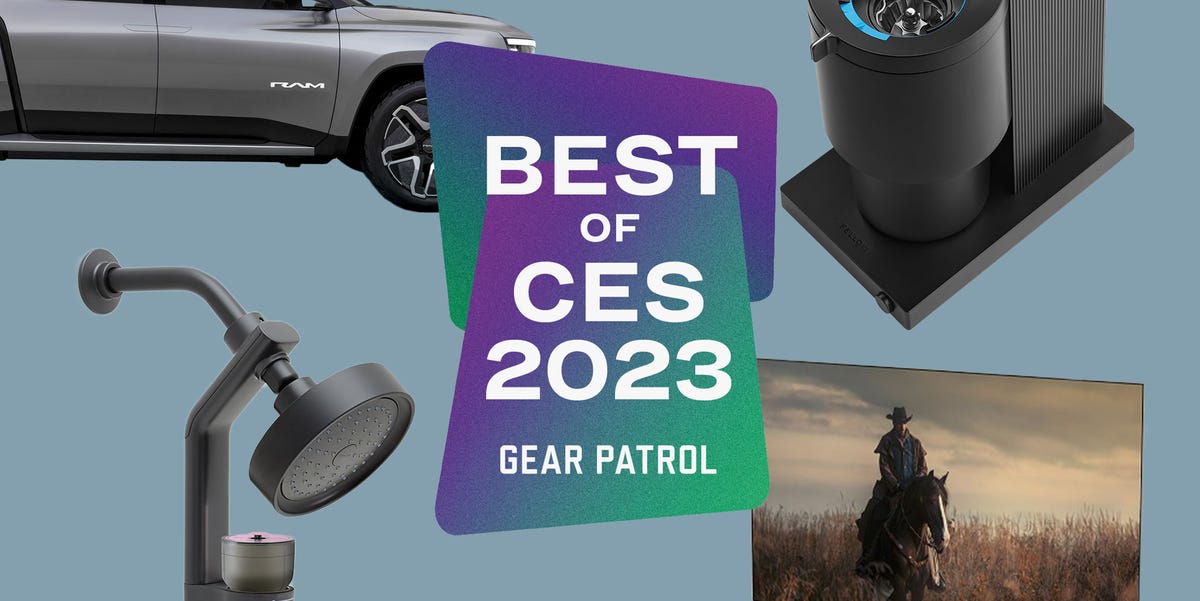 The first week of 2023 kicked off with bang. Specifically, the world's largest electronics show, CES (a.k.a the Comsumer Electronic Show), which took center stage and brought forth a ton of new gadgets — everything from gorgeous TVs to turntables, futuristic cars to super nerdy smart home appliances.
Looking back on the week that was now, we're highlighting the coolest new gear and gadgets that were revealed at CES 2023. Check out our favorite products from the show below.
Samsung Viewfinity S9
The Samsung Viewfinity S9 is a new monitor that's designed to rival Apple's Studio Display. It's a 27-inch 5K monitor with an anti-glare display, a built-in 4K webcam and a wide variety of ports (including HDMI, Thunderbolt 4, USB-C and DisplayPort). It also comes with the Samsung's Tizen smart operating system, which effectively allows it to work as a smart TV — where you can stream your favorite apps such as Netflix or Disney+ — when your laptop isn't connected. No pricing has been announced, but it's likely that Samsung will position it as cheaper alternative to Apple's $1,599 Studio Display.
Price: TBD
Availability: TBD
LEARN MORE
Lenovo Yoga Book 9i
The Lenovo Yoga Book 9i is one of the most interesting laptops to come out of CES this year. It's a first-of-a-kind laptop with dual OLED touchscreen displays and can function as a tablet, laptop and, well, something else. It comes with a removable keyboard, kickstand and stylus. Without those accessories, the two displays can be folded or flipped together to work like a 2-in-1 tablet. But with the accessories, the Lenovo Yoga Book 9i can be situated into even more positions, including with the two displays stacked vertically on top of each other. On paper, it looks like it could be configured in basically whatever portable workstation you like.
Availability: June 2023
Price: $2,100+
LEARN MORE
Ram 1500 Revolution BEV Concept
The Ram 1500 Revolution BEV Concept is what the brand describes as a "visionary road map" for a new truck that will "redefine the pickup segment." It has dual electric motors front and rear giving it AWD, an adjustable air suspension with Ingress/Egress, Aero and Off-Road modes. and four-wheel steering for added maneuverability, with up to 15 degrees of articulation. The rear doors are rear-hinged; it has third-row jump seats in the bed, and the midgate between cabin and bed folds flat.
Availability: 2024
Price: TBD
Fellow Opus Grinder
Fellow addressed its lack of an espresso grinder by unveiling the Opus, a new grinder from the brand that can grind fine enough for espresso. The Opus uses conical burrs rather than the flat burrs of Fellow's existing Ode grinder, and it features a full 41 settings capable of grinding coffee for everything from fine espresso to coarse grounds for cold brew.
Availability: February 2023
Price: $195
LEARN MORE
Victrola Stream Onyx
Victrola has announced a follow-up to its 2022-released Stream Carbon turntable. Like its predecessor, the Stream Onyx is a collaboration with Sonos — they are the only two turntables (so far) that are certified for Works With Sonos — and allows you to wirelessly stream vinyl directly to your Sonos system. The kicker is that Victrola has made the "Onyx" cheaper by $200. The tradeoff is you're not getting quite as high quality of turntable, as it's made of mostly thick plastic instead of metal and its phono cartridge and tonearm aren't quite as high end.
Availability: preorder January 7; ships late February
Price: $599
LEARN MORE
BMW i Vision Dee Concept
The BMW i Vision Dee represents our first look at the "Neue Klasse," BMW's next generation of electric cars. "Dee" stands for "Digital Emotional Experience," and refers to the way the car interacts with its driver — more naturally and emotionally. Chief among them is the windshield-wide head-up display, which will be available starting in 2025. It features what they called the "Mixed Reality Slider," a control that lets you dial up or down the amount of augmented reality you want on your windshield. BMW also showed off a version of the car capable of changing color like a chameleon.
Availability: 2025 (in production form under a different name)
Price: TBD
JBL Bar 1300X
JBL's "Bar" line of soundbars first debuted in 2020 and they are unique because they have detachable rear satellite speakers, effectively allowing you to turn a front-firing soundbar into a truly immersive surround sound system. The company announced several refreshed and new versions of these soundbars for 2023, but the JBL Bar 1300X is definitely the standout. It's a 11.1.4-channel system with 21-total drivers (including six upward-firing) and support for Dolby Atmos and DTS:X. Yes, it's a beast.
Availability: February 19
Price: $1,700
LG Signature OLED M3
The LG Signature OLED M3 is the highest-end TV that the company announced at this year's CES. It's unique because it's LG's first OLED TV that supports "Zero Connect" wireless connectivity. It works with an external box that houses all its connections, such as gaming consoles or media players, and then wireless transmits them to the TV from up to 30 feet away. The idea is that the 97-inch TV appears completely wireless. There's no word of pricing or availability at this time.
Price: TBD
Availability: TBD
ZF Heat Belt
Germany automotive supplier ZF used CES to unveil a heated seat belt — or, as ZF efficiently refers to it, the "heat belt." The seat belts integrate heating conductors into the belt's webbing without affecting its comfort or safety functionality. The belt instantly heat to temperatures between 96ºF and 104ºF and work in concert with heated seats to keep the occupants warm. Besides being pleasant, ZF believes the heat belts would dramatically reduce the energy needed to heat the cabin; ZF believes using the heat belts with heated seats could result in a 15% range gain in EVs.
Availability: TBD
Price: TBD
LEARN MORE
Masonite MPwr Smart Door
Why outfit your door with a smart camera and smart lock when you can just buy a new door with everything built in? That's the idea behind Masonite's new MPwr Smart Door, which incorporates built-in LED lighting, an integrated Ring Doorbell Cam, a Yale Smart Lock and other nifty tech that threatens to make all other front doors obsolete. The door even includes a backup battery for when the power goes out, and Masonite says it will arrive in Home Depot later this year.
Availability: 2023
Price: TBD
Drop BMR1 Nearfield Monitors
Drop announced its first-ever set of computer speakers, the BMR1, and they're pretty versatile. You can connect them to your computer via AUX or stream music to them over Bluetooth. You can even add an external subwoofer for improved bass. And they can be vertically (shown) or horizontally orientated, depending on how you want them to look on your desk.
Availability: preorder on January 31; expected to ship late February or early March
Price: $129
LEARN MORE
Sony x Honda's Afeela
Sony Honda Mobility — a joint venture between Sony and Honda – announced the formation of a new car brand, Afeela. (The company chose the name because "Feel" is at the center of the mobility experience.) They revealed an Afeela prototype, a swoopy sedan that looks like an electric Honda Accord. It will have an exterior "Media Bar" that will use light to "enable interactive communication between mobility and people." Afeela will partner with Qualcomm for its computer hardware and Epic Games for its graphical interface. Afeela's car will also have 45 internal and external cameras and sensors offering, potentially, some form of Level 3 automated driving.
Availability: Spring 2026
Price: TBD
Dell UltraSharp 32 6K Monitor
This is Dell's UltraSharp monitor that's been designed with pros in mind. The U3224KB is a 32-inch 6K all-in-one monitor with a built-in microphone and speakers — according to the company, the first 6K monitor with an IPS Black panel. It boasts both DisplayPort 2.1 and Thunderbolt 4 connectivity, and you can actually connect two laptops (or another source) and use them simultaneously via picture-by-picture via PBP (split screen) or PIP (smaller picture inside a larger one). And while pricing has yet to be announced, it's expected to be cheaper than its Apple rival, the Studio Display.
Price: TBD
Availability: Spring 2023
GlüxKind Ella Stroller
This was one of CES 2023's biggest showstoppers, earning an Innovation Award. It's an AI-powered self-driving stroller that seems destined to become the new status symbol among well-heeled parents. Not only is the stroller capable of driving on its own, but it also features innovative features like a smart brake that will keep it from running away once the parent is out of reach and a rocking feature with built-in white noise to rock your little one to sleep.
Availability: April 2023
Price: $3,800